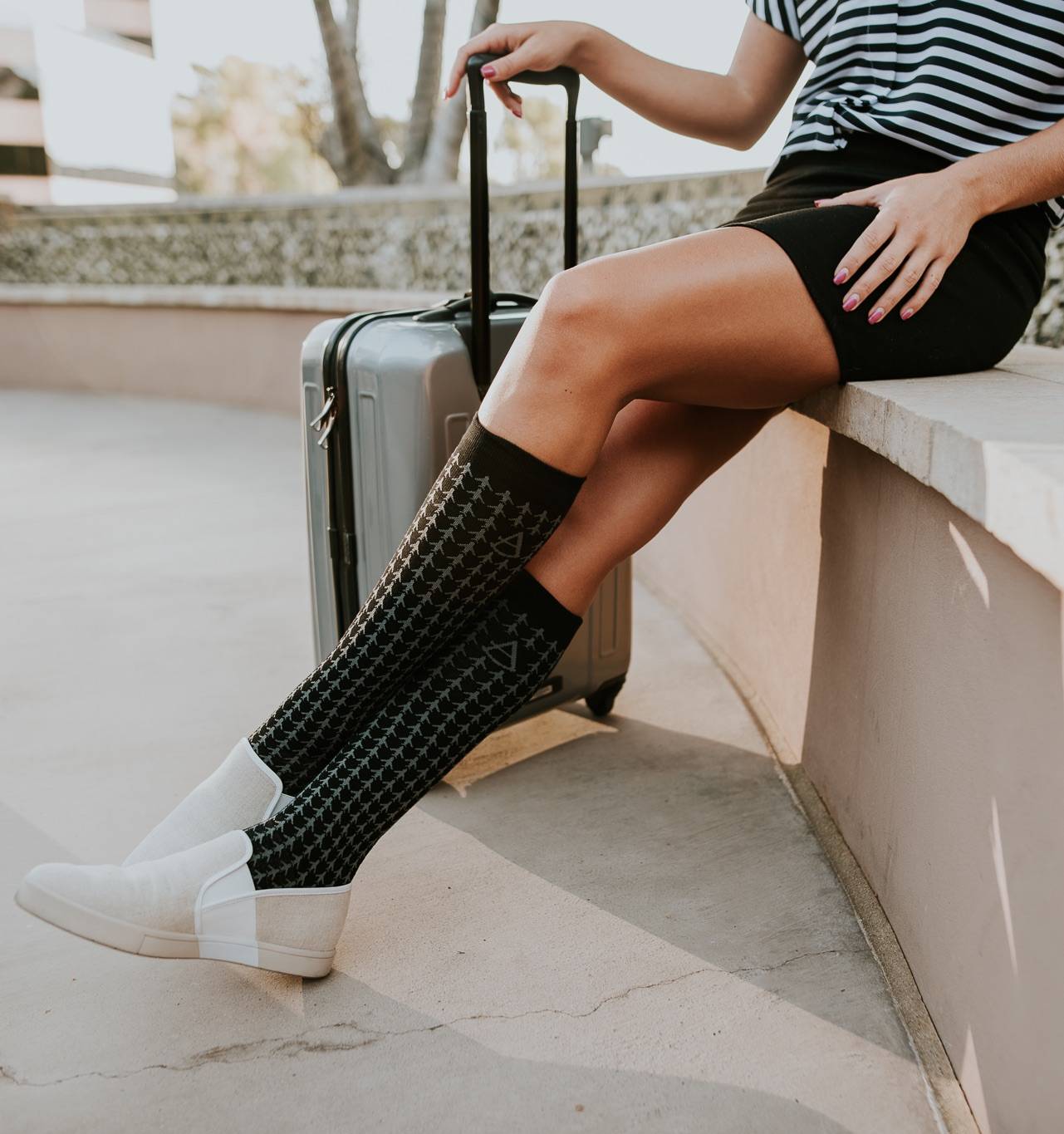 84% of MEDICAL PROFESSIONALS AGREE ON ONE SIMPLE THING TO REDUCE LEG PAIN AND SWELLING

Why is graduated compression the PERFECT ANTIDOTE for reducing pain and swelling?
Graduated compression socks are special socks that help PROMOTE CIRCULATION in your legs, by helping blood flow upward back towards the heart.
This special compression profile can help improve your performance, PREVENT minor leg disorders, and ENHANCE healthy legs and hearts.
THIS IS THE MEDICAL PROFESSIONALS' SECRET TO LASTING HEALTH.

IF THE DOCTORS AND NURSES ARE WEARING THEM TO STAY FIT, YOU NEED THESE SOCKS TOO.
In a study of Nurses on shift, 84% reported less pain throughout their shift, and 74% reported less swelling .
After four weeks of consistent use, flight attendants reported relief from tightness, aching, stress, swelling, fatigue, and discomfort.
FREQUENT FLIERS HAVE KNOWN ABOUT THESE SOCKS FOR YEARS.

NOW IT'S YOUR TURN TO BENEFIT.
On a 5 hour seated trip (think of a cross country flight), of the subjects who wore graduated compression:
60% reported less pain,
50% reported less discomfort,
45% reported lower levels of swelling,
and 12-18% reported improved energy, alertness, and concentration.
MARATHON RUNNERS WEAR THEM TO LAST LONGER

IF IT HELPS THEM, THEY WILL CERTAINLY HELP YOU
In one study, ahletes wearing graduated compression held a 24% higher rate of oxygen recovery.
WHAT WE STAND FOR, AND BELIEVE YOU DO TOO
AFTON SOCKS are founded on three key principles:  HEALTH, QUALITY, AND TRANSPARENCY.
Your immediate and lasting satisfaction is our greatest priority. We want you to feel good and rest easy knowing that every angle of our products is made for your well-being.  
 
Here are our guiding principles:
HEALTH

Our products feature Öko-tex Standard certification, which is a leading standard for ensuring harmful chemicals are not present in our garments. You are what you eat, and you are what you wear.
QUALITY

Quality products don't need to hide their roots. That is why we list the product materials on the front of the package , instead of hiding somewhere in a tag deep inside the garment. We do this with the country of design, development, and manufacture for the same reasons.
TRANSPARENCY

Your AFTON products are sold online so that pricing is better than retail, and still made by people who are treated fairly and with respect, so you can wear them guilt-free. We visit every site that makes our products. Happy people make better products.
THE MEDICAL BENEFITS OF GRADUATED COMPRESSION ARE UNMISTAKABLE
IF IT HELPS THEM, THEY WILL CERTAINLY HELP YOU
The EFFECTIVENESS of graduated compression in general is well documented to provide relief from:
- post operative vericose vein surgery
- post operative deep vein thrombosis
and aid in the prevention of skin ulcers. If you have these conditions, please consult a medical professional!